Elesta ECT100 1 MHz Dekadische Zählröhre
Bi-directional Selector Tube (Dekatron)
Tube compteur/sélecteur décimal
Elesta AG, Bad Ragaz, Switzerland.
1963.
The ECT100 is the ultimate dekatron: Swiss-made, hydrogen fill, bidirectional, capable of counting at frequencies of up to 1 Mc/s. The ECT100 is also one of the smallest dekatrons ever made. Elesta described it as the fastest bidirectional counting tube in the world. In addition, under correct operating conditions, a service life of one million hours should be achievable.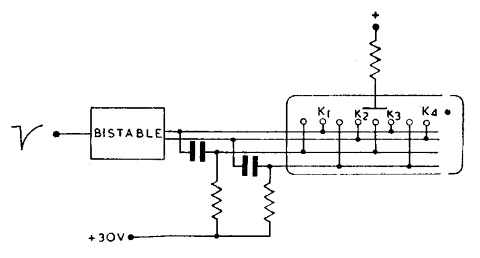 The ECT100 has only 20 cathode positions, comprising the tips of four star-shaped stampings insulated from each other, but mounted co-axially within a cylindrical anode ring. The arms are bent slightly so that their tips all lie in the same plane. Separate leads are brought out from each stamping, one representing all the odd-numbered index cathodes, another all the even. The other two stampings are guide electrodes, G1 and G2, which are RC coupled to the 'odd' and 'even' cathodes respectively. The 'odd' and 'even' cathodes are coupled directly to a bistable circuit so that one is at ground potential, the other at +60 V. In a quiescent condition, G1 and G2 were biased to +30 V.
Suppose the discharge rests on K1, which is at ground potential. On receipt of an input pulse the bistable reverses state. K1 rises to +60 V and K2 falls to ground potential. Through the RC coupling, G1 is driven momentarily to >60 V and G2 to below ground. The discharge therefore transfers from K1 to the adjacent G2 electrode. Then, as G2 rises once more to +30 V, the discharge transfers to K2.
The tube is provided with output probes close to the tips of the ten index cathodes. By ionic coupling an output of up to 200 V may be obtained from the probe opposite the conducting index cathode.
It is claimed that, besides operating at up to 1 Mc/s under severe environmental conditions, the ECT100 shows virtual immunity from 'sticking' following prolonged operation with the discharge resting on a single index cathode. The tube will also operate with unusually large supply voltage variations, and h.t. stabilization is not generally needed. The relatively small drive pulse amplitude is readily provided by a pair of transistors. As the electrode arrangement is symmetrical, the tube may be stepped in reverse if the RC couplings to G1 and G2 are interchanged.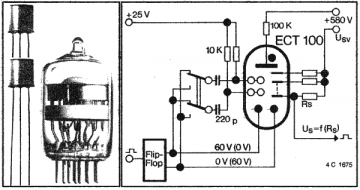 Anode supply voltage: min. 580 V
Cathode current: 2.7 mA
Control pulse voltage: 60 V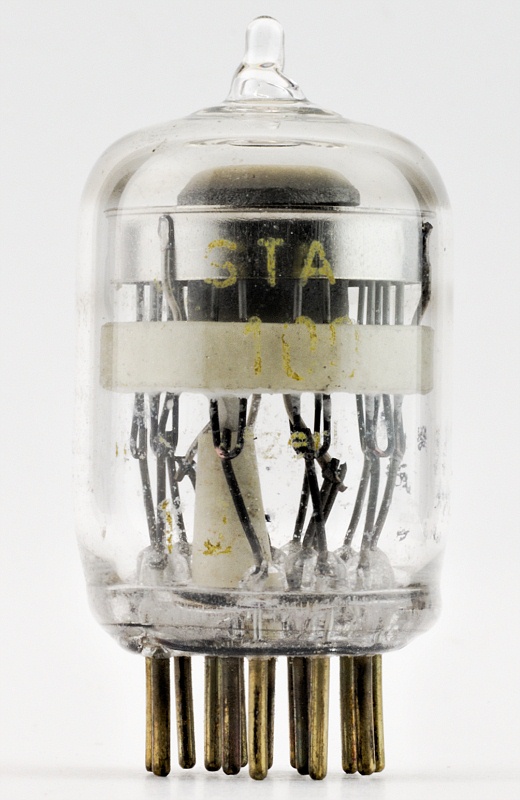 Hauteur • Height • Höhe : 41 mm • 1" 5/8
Diamètre • Diameter • Durchmesser : 20 mm • 3/4"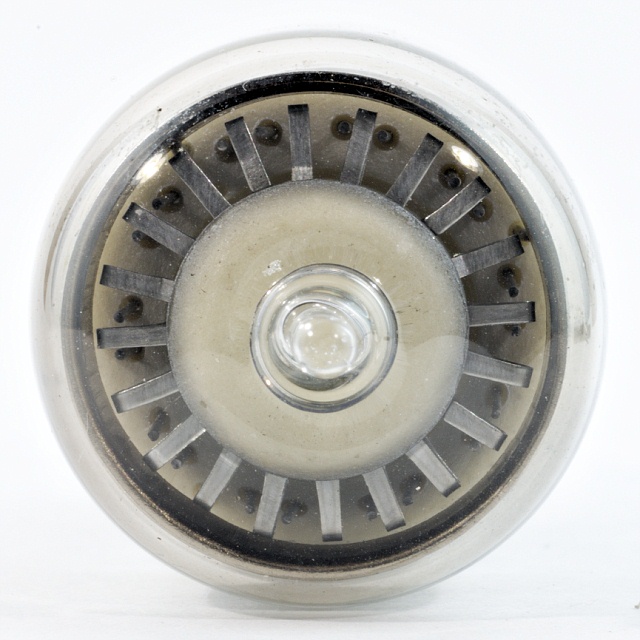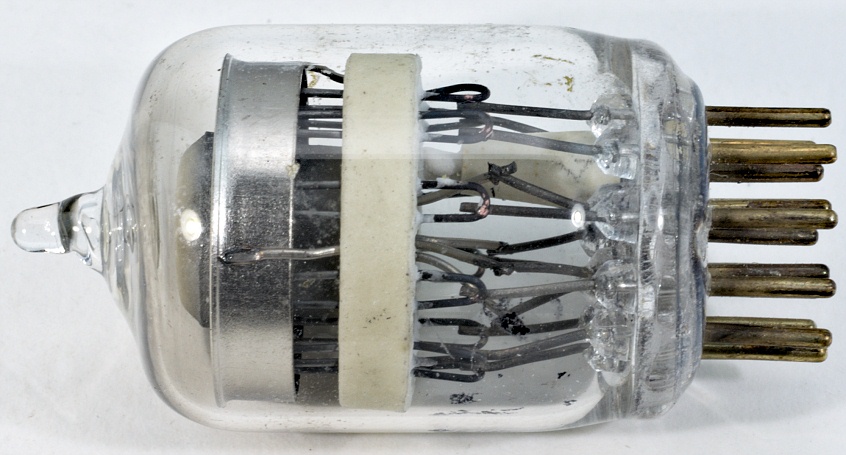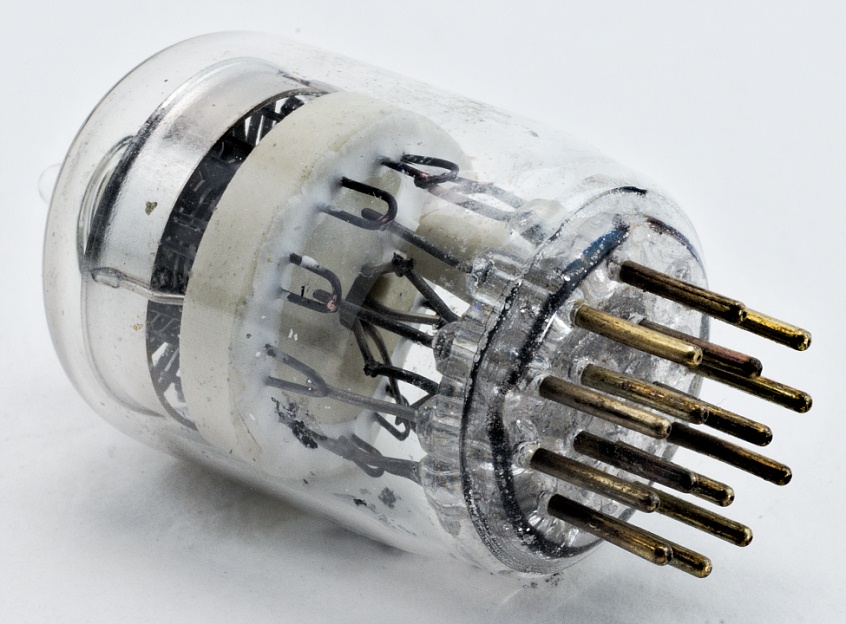 ---
Le contenu de ce site est sous copyleft

The content of this site is under copyleft

Der Inhalt dieser Website steht unter Copyleft