GENERAL ELECTRIC AH-6 Water-Cooled Super High Pressure Mercury Lamp
Lampe au mercure super haute pression
Super Hochdruck Quecksilberdampflampe
The mercury capillary lamp was invented by C. Bol in the early 1930s at Philips, which released this technology on the market in 1935. The high-brightness source proved very useful for light-projection purposes and although a water-cooling system was required, the 500 and 1000 W models were relatively popular in certain entertainment, technical and scientific lighting applications. Within half a decade after its introduction, this particular lamp technology was adopted by other lamp manufacturers in Europe and in North America.
General Electric (USA) introduced its first mercury capillary arc lamps in 1939 and within a few years this company offered two variants of the 1 kW-sized model: an A model rated at 1000 W for water-cooled operation, and a B model, rated at 900 W for an operation with forced air cooling.
Arc gap: 25 mm
Operating voltage: 840 V
Operating current: 1.45 A
Brightness: max. 30,200 cd/cm2
Output: 65,000 lumens
Luminous efficacy: 65 lm/W (at 100 hours)
Lamp fill: Hg/Ar
Average life: 75 hours

Longueur • Length • Länge : 82 mm • 3" 1/4
Diamètre • Diameter • Durchmesser : 6 mm • 1/4"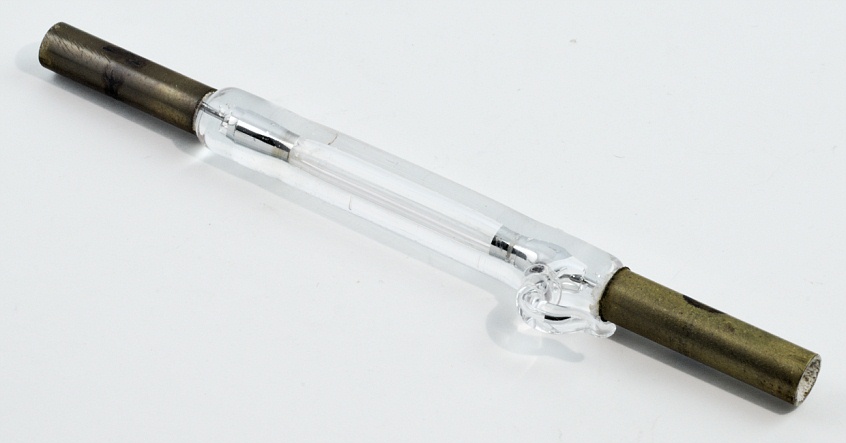 ---
Le contenu de ce site est sous copyleft

The content of this site is under copyleft

Der Inhalt dieser Website steht unter Copyleft