Machlett JAN-CAGD-1B42 Spark Gap Modulator Tube
Éclateur
Funkenstrecke
Fiche technique • Data sheet • Datenblatt: 1B42.pdf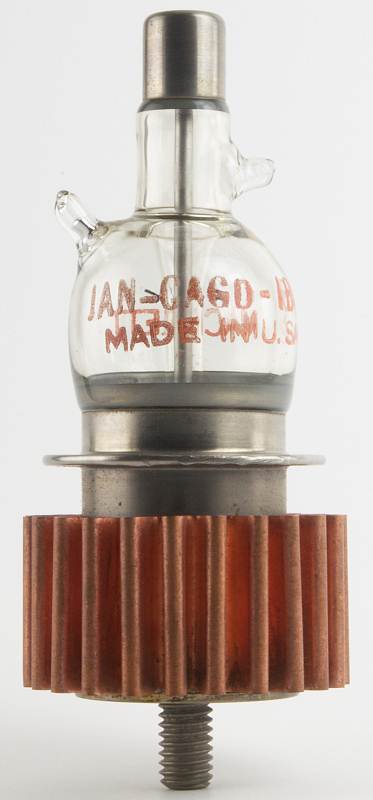 Hauteur • Height • Höhe : 13,2 cm • 5" 3/16
In the 1B42 fixed gap tube, mercury was used as cathode. This tube was developed for radars which were for long range search on shipboard. In these modulators, three tubes were used in series to switch a peak power of 0.8 megawatts and 1.4 megawatts, respectively, into high power triode oscillators. These modulators were to be capable of operation at either half or full power. The equipment was to be capable of withstanding the shock and vibration normally encountered on shipboard.
The use of an iron sponge mercury cathode with a molybdenum rod anode provided a wide voltage operating range as well as a long life with 200 ampere, 6 microsecond pulses. The mercury sponge cathode also met the vibration and shock requirements of shipboard operation.
In order to secure good wetting of the sintered sponge, which was essential to a long life, a special construction was used. The sponge was sintered directly into the bottom of a Kovar cup which had six radial vanes welded into it. These served to anchor the sintered material as well as to conduct the heat away from the center of the cathode. After the anode assembly and glass envelope were attached to the upper Kovar flange, the two sub-assemblies were welded together by means of a single ring weld. This allowed a minimum of handling of the sintered material and eliminated all glass work after the sintered material was inside the tube.

The processing of the tube consisted of first evacuating and then of heating the lower portion to 800°C while passing purified hydrogen through the tube. After the sponge had partially cooled, the mercury was introduced and wetting took place instantly.
Since the temperature of the center of the sponge must be kept below the boiling point of mercury, in addition to the internal vanes described, the Kovar cup was soldered into a block of copper to which was attached a folded copper radiator.
From: F. S. GOUCHER, J.R. HAYNES, W. A. DEPP and E. J. RYDER, "Spark Gap Switches for Radar," Bell System Technical Journal, Volume 25, Issue 4, October 1946.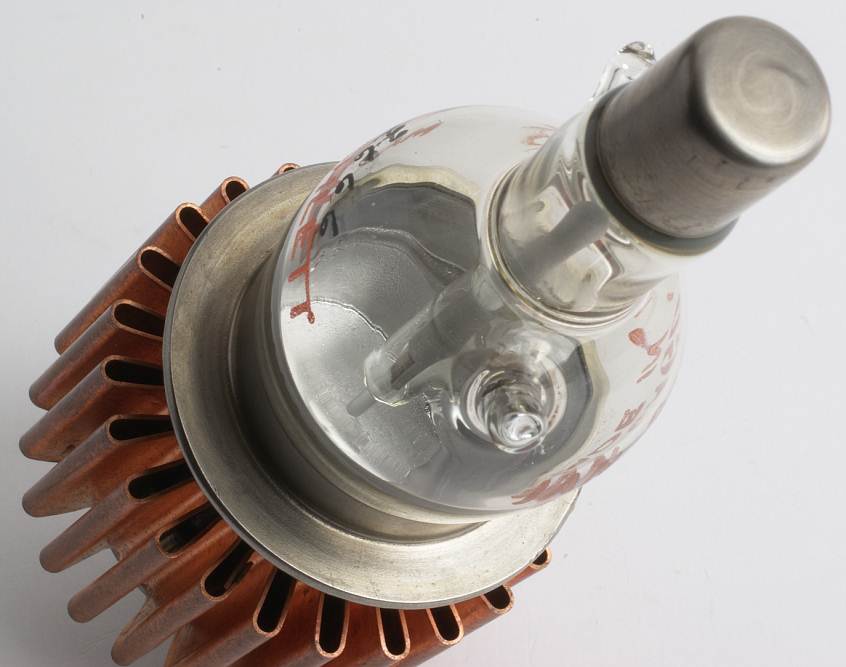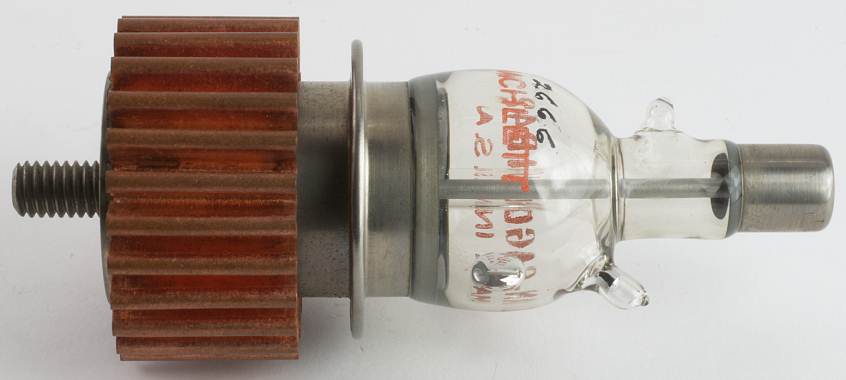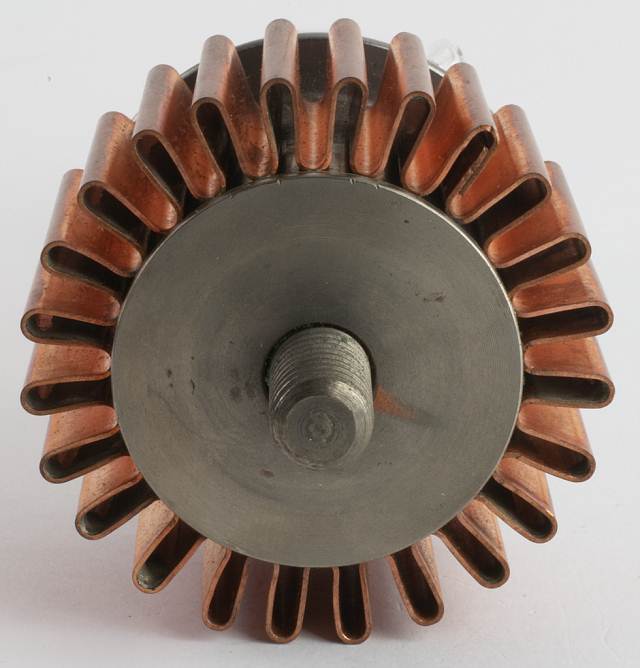 ---
Le contenu de ce site est sous copyleft

The content of this site is under copyleft

Der Inhalt dieser Website steht unter Copyleft