Тетрод-нувистор 6П37Н-В
6P37N-V Nuvistor, Screen-Grid Tetrode
Tétrode à grille d'écran
Leistungstetrode

Manufactured by • Fabriqué par • Hergestellt von : Novosibirsk Research Institute "Vostok", Russian Federation.
The Nuvistor is a type of vacuum tube announced by RCA in 1959; much smaller than conventional tubes, they are almost approaching the compactness of early discrete transistor casings. However, this one is much bigger than the other types. The tube is made entirely of metal and ceramic.
Application: output stages in special equipment; audio tube
Cathode type: oxide, indirect heating
Filament: 6.3 V • 0.9 - 0.25 A
Anode voltage: 100 V
Anode current: 0.08 - 0.17 A
Anode power: 13 W
Grid 1 voltage: -7 V
Grid 2 voltage: 100 V
Steepness: 13.0 - 27.0 mA/V
Reverse grid current: 1 μA
Microphnic noise: 300 mV
Service life: at least 10,000 hours
Fiche technique • Data sheet • Datenblatt: 6P37N-V.pdf & 6P37N-V.pdf
Thanks to Alexander Nazarenko for providing documentation about this tube.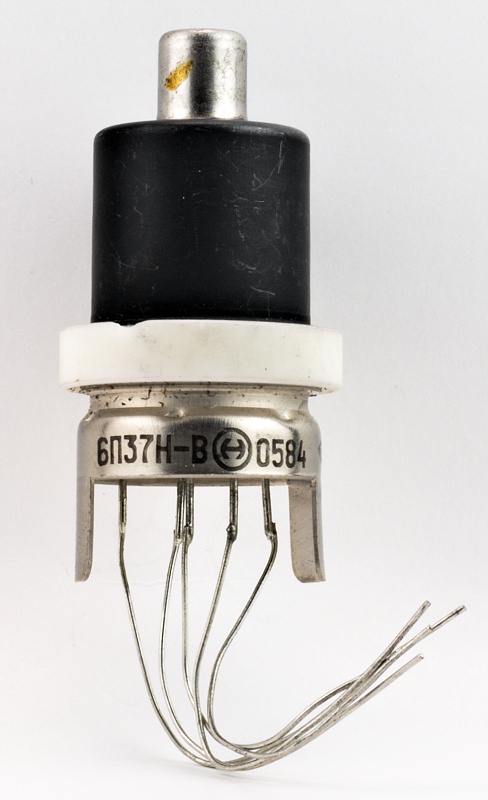 Hauteur • Height • Höhe : 55 mm • 2" 1/8
Diamètre • Diameter • Durchmesser : 22 & 28 mm • 7/8" & 1" 1/8
---
Le contenu de ce site est sous copyleft

The content of this site is under copyleft

Der Inhalt dieser Website steht unter Copyleft