VOLTARC UV-LUX GPH357T5L-S400 Low Pressure Mercury Germicidal Lamp
Lampe germicide à vapeur de mercure basse pression
Entkeimungslampe, Niederdruck-Quecksilberdampf-Lampe
The peak output of this lamp is at 254 nm (UV-C) for use in water purification and sterilization systems.
GPH lamps incorporate a switch that initially connects a combination filament–cathode at each end of the lamp to preheat them and requires four electrical connections. This allows the use of compact ballasts that are relatively inexpensive. When the arc is struck the filaments are disconnected. There is a slight delay before the lamps start.
Preheat Start Lamp Low Ozone
Bulb Shape: T5
Arc length: 277 mm
Power: 17 W
Current: 425 mA
Voltage: 42 V
UV output @254 nm: 57 μW/cm²
Rated life: 10,000 hours


Click to enlarge
Longueur • Length • Länge : 38 cm • 15"
Diamètre • Diameter • Durchmesser : 15 mm • 9/16"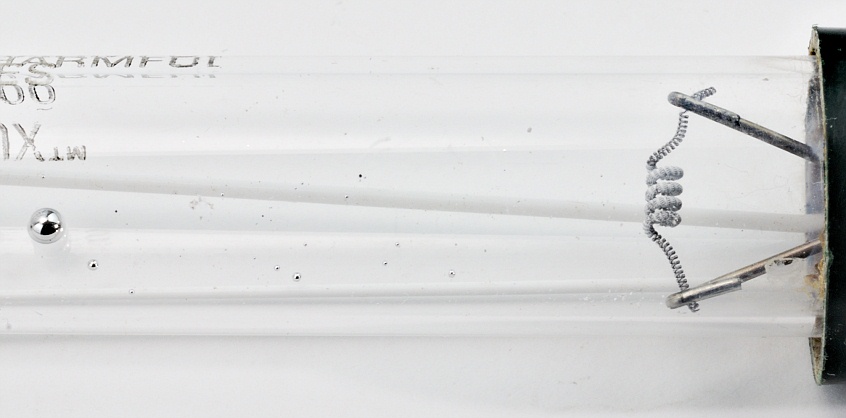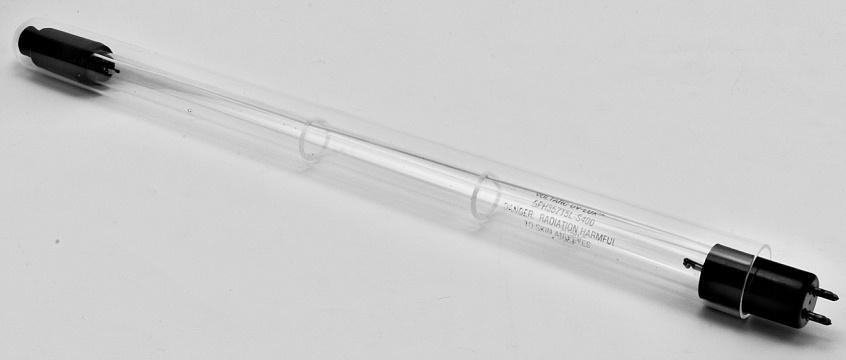 The lamp in its quartz thimble
(manufactured by Heraeus Silica & Metals Ltd)
---
Le contenu de ce site est sous copyleft

The content of this site is under copyleft

Der Inhalt dieser Website steht unter Copyleft