Valve redresseuse avec régulateur de Bauer
Rectifier Tube with Bauer Regulator
Röntgen-Ventile
Manufactured by • Fabriqué par • Hergestellt von : La Verrerie Scientifique - 109, rue de Sèvres - Paris (France)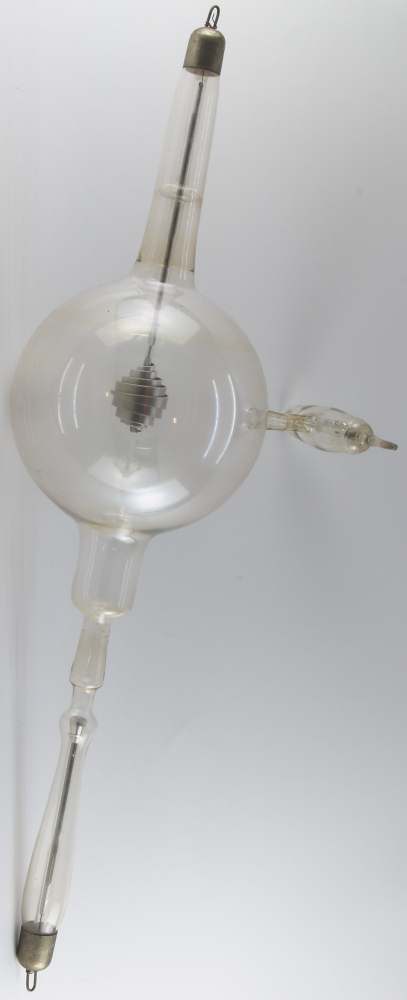 Longueur • Length • Länge : 63 cm • 2' 8/10"
Diamètre • Diameter • Durchmesser : 17 cm • 6 7/10"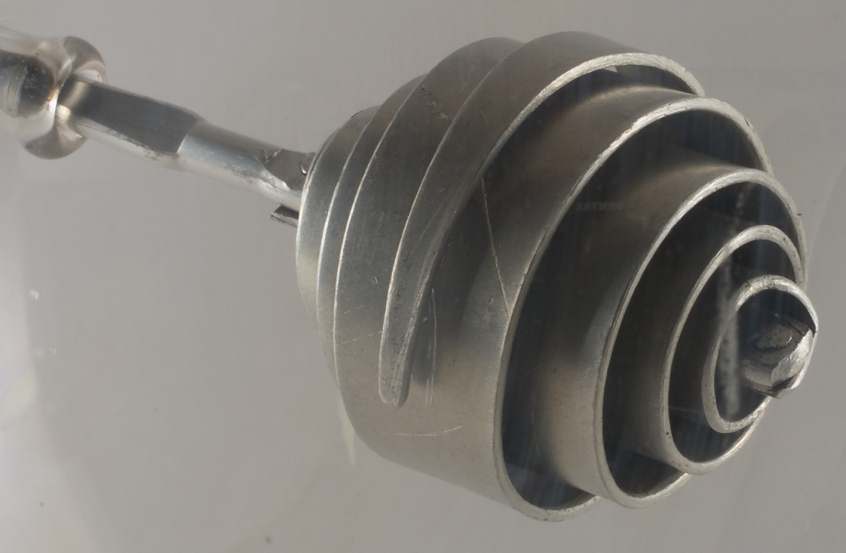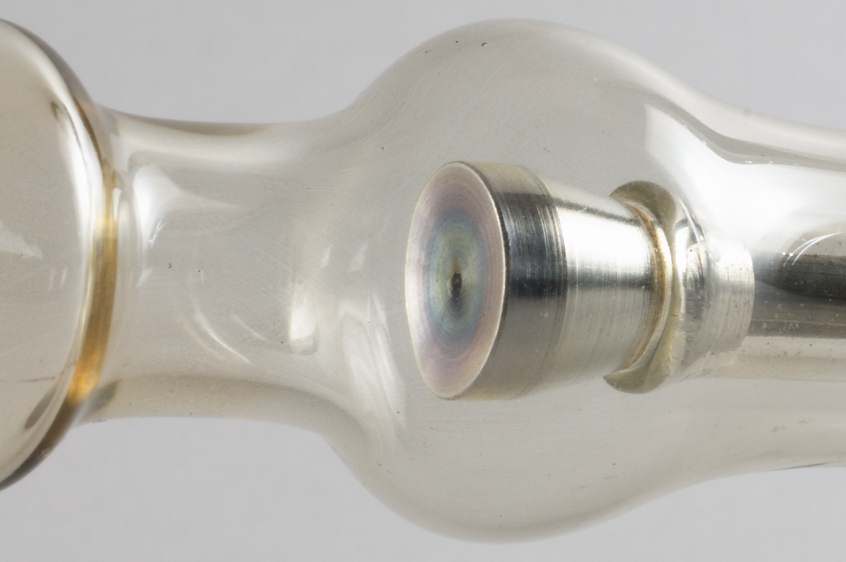 En raison de leur construction, il était absolument nécessaire que le courant passe à travers un tube à rayons X dans la bonne direction, c'est-à-dire, de l'anticathode vers la cathode.

Lorsque le courant passe en sens inverse, non seulement il ne produit pas de rayons X, mais le tube lui-même devient rapidement endommagé par les particules métalliques pulvérisées par l'anticathode, qui fonctionne à ce moment en tant que cathode. Il est même possible que le flux de rayons cathodiques émis par l'anticathode en direction des parois du tube soit suffisamment intense pour perforer le verre.

La décharge produite par une bobine d'induction n'étant pas entièrement dans une seule direction, des redresseurs à haute tension ont été nécessaires pour supprimer le courant inverse. La valve était insérée en série avec le tube à rayons X: lorsqu'un tube est équipé de deux électrodes de surface très inégale, et est évacué à la faible pression adéquate, la décharge passe par le tube très facilement (c'est-à-dire à une tension relativement faible) lorsque l'électrode de grande taille (ici, une grande spirale d'aluminium) est négative, mais avec beaucoup plus de difficulté lorsque c'est la petite électrode qui sert de cathode. L'effet est augmenté lorsque la petite électrode est confinée dans une partie étroite de l'ampoule.

En fonctionnement, les gaz résiduels sont progressivement absorbés par le verre de l'ampoule, et la pression intérieure diminue; on dit que le tube "durcit", il nécéssite une tension plus élevée pour fonctionner.

Divers systèmes de régulation ont été utilisés pour permettre d'introduire dans le tube une certaine quantité de gaz afin de rétablir la pression de fonctionnement adéquate.

Le régulateur dont ce tube est equipé a été décrit pour la première fois en 1907 par l'Allemand Heinz Bauer. Il consiste en une soupape de mercure actionnée par une poire en caoutchouc. En pressant la poire, l'opérateur pousse une colonne de mercure à l'intérieur du tube replié, de manière à découvrir une petite ouverture qui est normalement fermée par le mercure; lorsque l'ouverture est découverte, un peu d'air est admis dans le bulbe.


Owing to their construction, it was absolutely necessary that the current passes through an X-ray tube in the proper direction, that is, from the anticathode to the cathode. If the current passes is the reverse direction, not only it is useless for radiographic purposes, but the tube itself becomes rapidly damaged by the metallic sputterings from the anticathode, which functions at that moment as the cathode. It is also possible that the stream of cathode rays, which are given off from the anticathode and fall upon the walls of the tube, may be sufficiently intense to puncture the glass.

Since the discharge produced by an induction coil was not entirely in one direction, high tension rectifiers were needed to suppress the inverse current. The rectifying valve was inserted in series with the X-ray tube: when a tube is equipped with two electrodes of very unequal area, and is exhausted to a suitable low pressure, the discharge will pass through the tube very easily (that is, at a comparatively low voltage) when the large electrode (here, a large spiral of aluminium) is made the cathode, but only with great difficulty if the small electrode is the cathode. The effect is increased when the small electrode is placed in a confined part of the bulb.

In operation, the residual gases are gradually absorbed by the glass bulb, so the internal pressure decreases: the tube is said to "harden", and it requires a higher voltage to operate.

Various regulators have been used to allow to introduce into the tube a certain quantity of gas in order to restore the proper operating pressure. The regulator which equips this tube was first described in 1907 by the German Heinz Bauer. It consists of a mercury valve operated with a rubber inflation bulb. By pressing the bulb, the operator pushes a column of mercury down a folded tube, so as to uncover a small opening, which is normally closed by the mercury; when the opening is discovered, a little air is allowed in the bulb.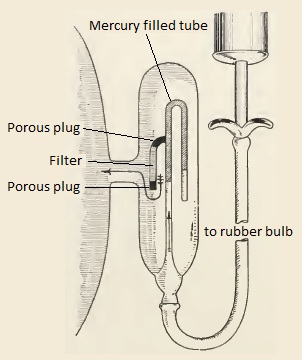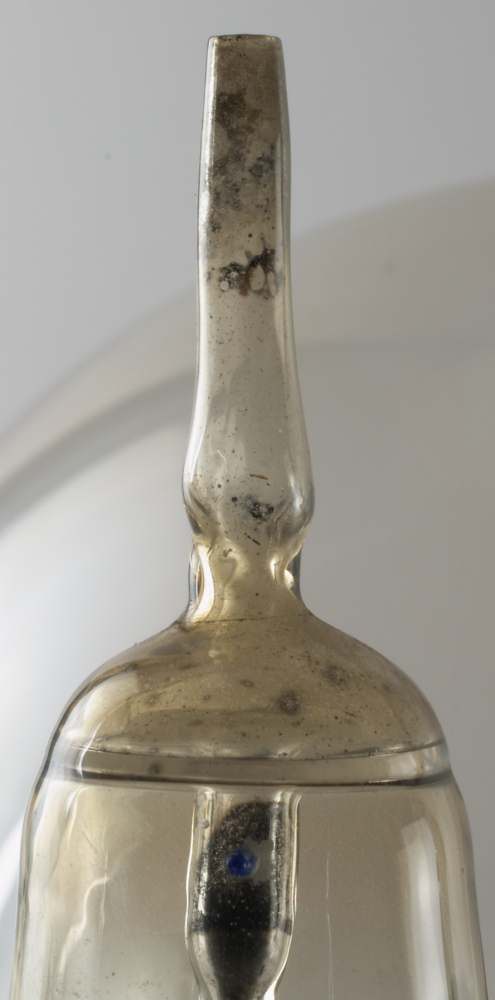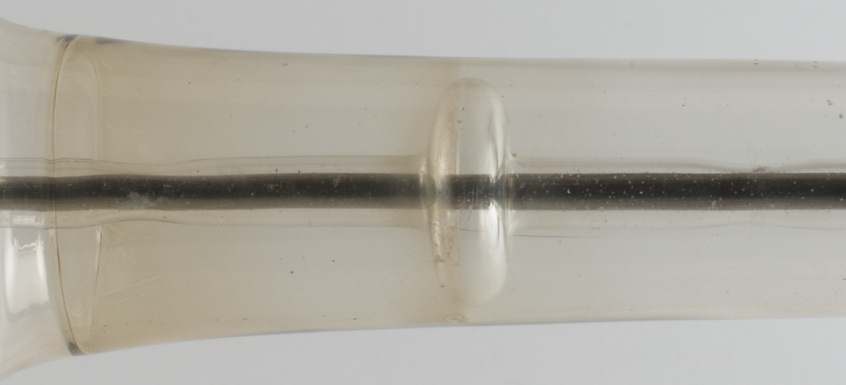 ---
Le contenu de ce site est sous copyleft

The content of this site is under copyleft

Der Inhalt dieser Website steht unter Copyleft