Soupape de Villard
Villard or Ventril Rectifying Valve
Villard Ventilröhre
Circa 1910.


En raison de leur construction, il était absolument nécessaire que le courant passe à travers un tube à rayons X dans la bonne direction, c'est-à-dire, de l'anticathode vers la cathode.
Lorsque le courant passe en sens inverse, non seulement il ne produit pas de rayons X, mais le tube lui-même devient rapidement endommagé par les particules métalliques pulvérisées par l'anticathode, qui fonctionne à ce moment en tant que cathode. Il est même possible que le flux de rayons cathodiques émis par l'anticathode en direction des parois du tube soit suffisamment intense pour perforer le verre.
La décharge produite par une bobine d'induction n'étant pas entièrement dans une seule direction, des redresseurs à haute tension ont été nécessaires pour supprimer le courant inverse. La soupape de Villard est un tube à vide équipé d'un régulateur pour maintenir le bon niveau de vide. Ses deux électrodes sont très différentes l'une de l'autre. Une des électrodes est constituée d'une spirale d'aluminium présentant une surface importante pour l'origine des rayons cathodiques. Cette électrode agit facilement comme une cathode et la soupape permet le passage aisé du courant dans cette direction. L'autre électrode est constituée d'une petite tige droite de métal presque totalement enveloppée par le verre et présente donc une surface minimale pour l'origine des rayons cathodiques, de sorte que le flux d'électrons partant de cette électrode aura beaucoup plus de mal à passer lorsqu'on l'utilise comme cathode.
Ce tube fonctionne donc comme une soupape: il ne laisse passer que le courant partant de l'électrode large et se dirigeant vers la pointe.


Owing to their construction, it was absolutely necessary that the current passes through an X-ray tube in the proper direction, that is, from the anticathode to the cathode. If the current passes is the reverse direction, not only it is useless for radiographic purposes, but the tube itself becomes rapidly damaged by the metallic sputterings from the anticathode, which functions at that moment as the cathode. It is also possible that the stream of cathode rays, which are given off from the anticathode and fall upon the walls of the tube, may be sufficiently intense to puncture the glass.
Since the discharge produced by an induction coil was not entirely in one direction, high tension rectifiers were needed to suppress the inverse current. The Villard ventril tube is a vacuum tube equipped with a regulator for maintaining the right degree of vacuum. Its positive and negative poles are differently shaped. One pole is made of a spiral of aluminium presenting a very large surface for the origin of the cathode rays. This pole acts readily as a cathode and the ventril tube permits the passage of currents flowing in such a direction that this pole is the negative one. The other pole is made of a small straight rod of metal almost completely ensheathed in glass and presenting a minimum surface for the origin of cathode rays. The tube will hardly transmit any current which pass in such a direction.
This tube acts thus as a valve: it lets pass only the current from the large electrode to the small one.


Click to enlarge
Longueur • Length • Länge : 46 cm • 18" 1/8
Diamètre • Diameter • Durchmesser : 9,5 cm • 3" 3/4

Une seule soupape connectée en série avec l'anode du tube à rayons X.
Single ventril tube connected in series with the anode of the X-ray tube.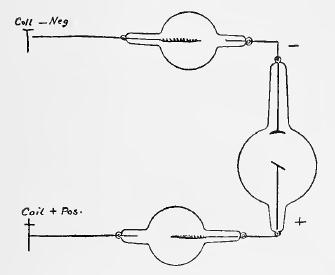 Deux soupapes entre les pôles de la bobine d'induction et les bornes du tube à rayons X.
Two ventril tubes between the poles of the coil and the terminals of the X-ray tube.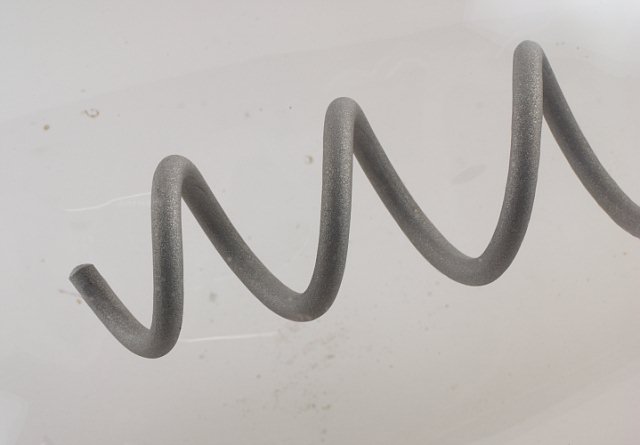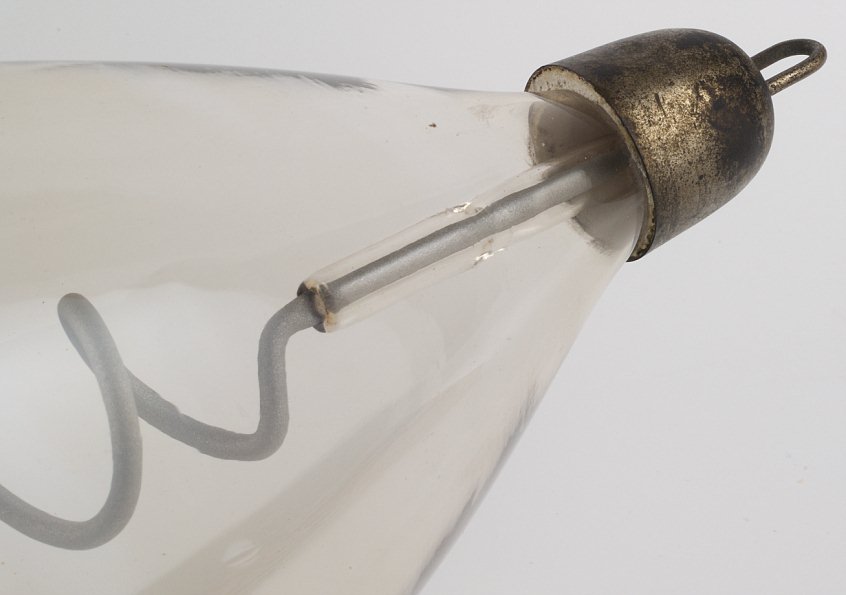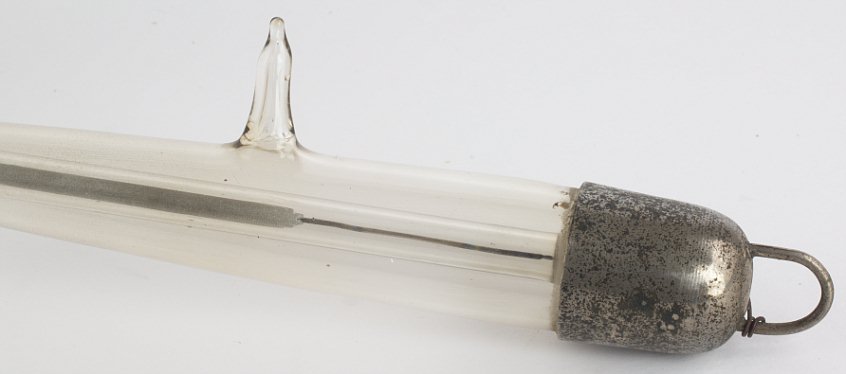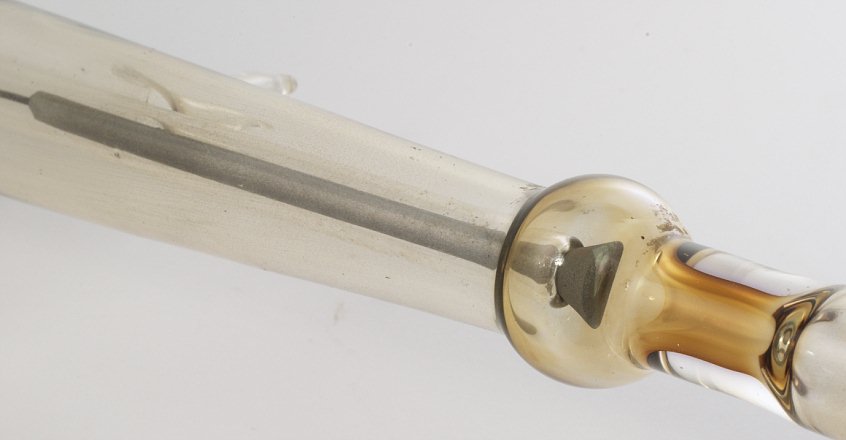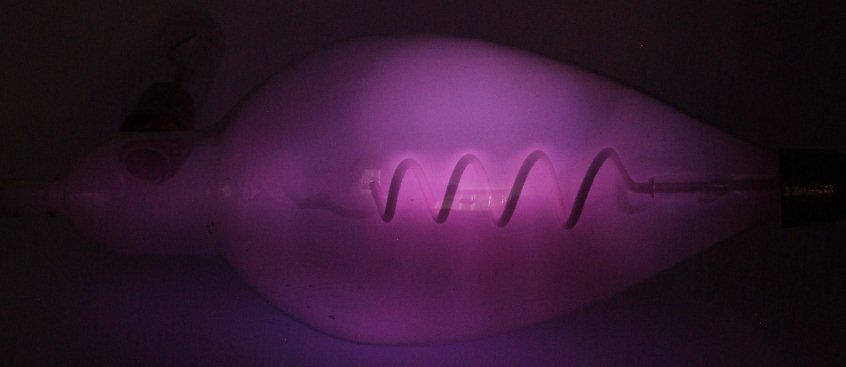 En fonctionnement, les gaz résiduels sont progressivement absorbés par le verre de l'ampoule, et la pression intérieure diminue; on dit que le tube "durcit", il nécéssite une tension plus élevée pour fonctionner. Pour remédier au durcissement, Paul Villard présente son "Osmo-Régulateur" en 1898, qui utilise la propriété du platine de n'être perméable qu'aux seules molécules d'hydrogène lorsque ce métal est chauffé au rouge.


In operation, the residual gases are gradually absorbed by the glass bulb, so the internal pressure decreases: the tube is said to "harden", and it requires a higher voltage to operate. As a remedy, Paul Villard presents his "Osmo-Regulator" in 1898, which uses the property of the permeability of platinum to the only hydrogen molecules when this metal is heated to red-hot.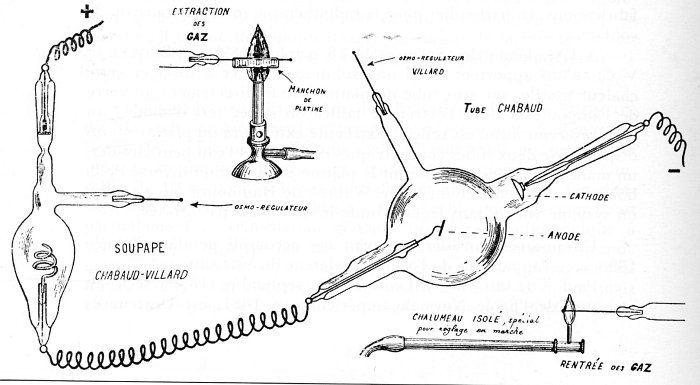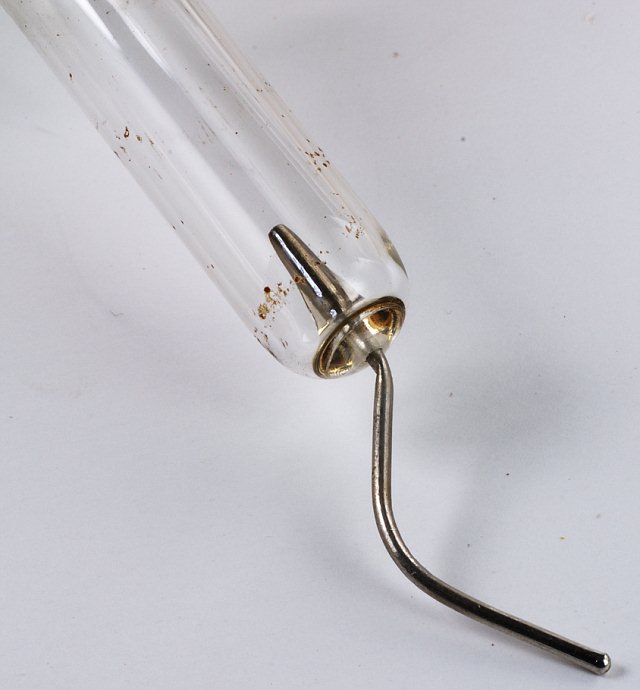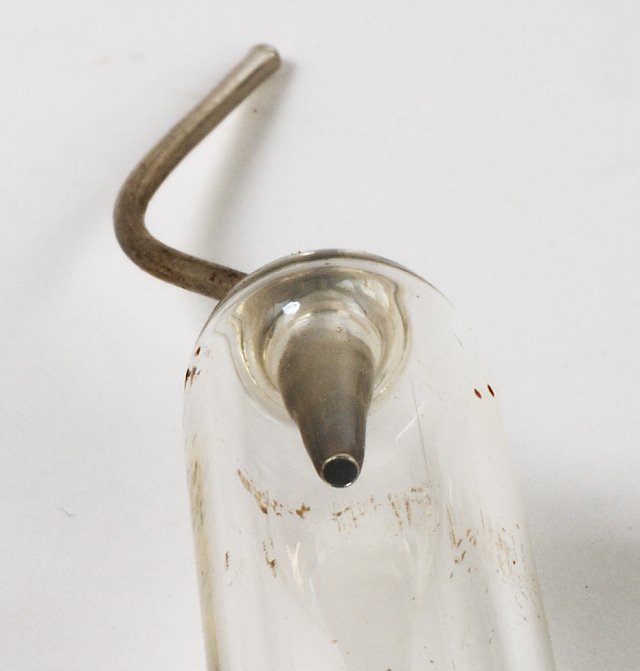 ---
Le contenu de ce site est sous copyleft

The content of this site is under copyleft

Der Inhalt dieser Website steht unter Copyleft