Вторично-электронный умножитель ВЭУ-4
VEU-4 Channel Electron Multiplier (CEM)
Multiplicateur tubulaire d'électrons (multiplicateur à dynode continue)
Kanalelektronenvervielfacher (KEV)
Manufactured by • Fabriqué par • Hergestellt von :
Ordzhonikidze plant "Gran" (Гран), Vladikavkaz, Russia
For detecting charged particles of low energies, ultraviolet and soft X-rays, as well as for detecting neutral particles.
Fiche technique • Data sheet • Datenblatt: VEU2.pdf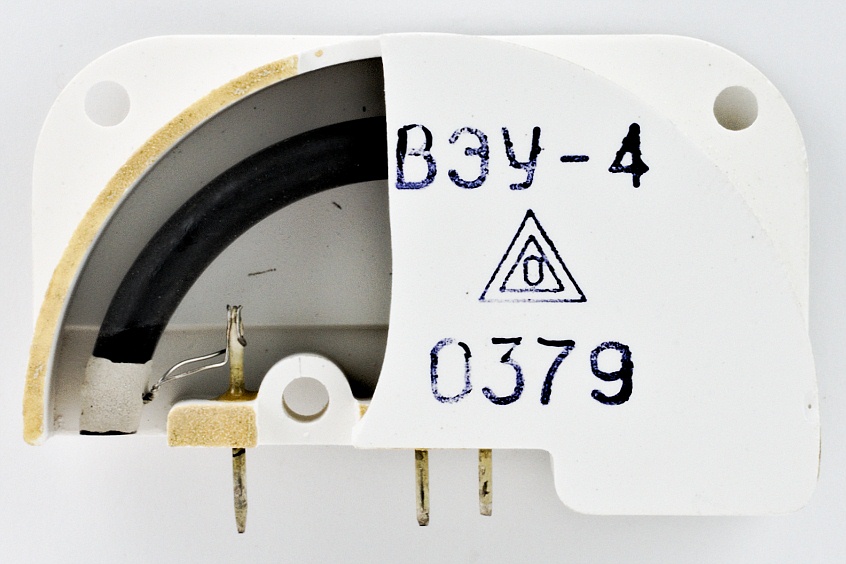 (The front plate is partially broken.)
60 x 37 x 14 mm • 2" 3/8 x 1" 1/2 x 1/2"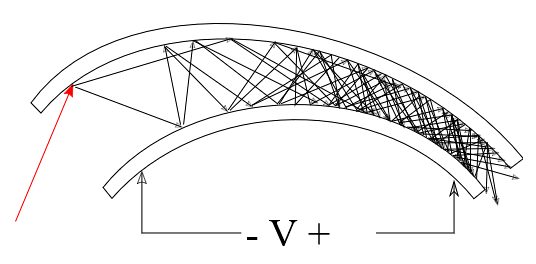 The "continuous dynode" geometry has very similar characteristics to the discrete dynode geometry, with a high negative voltage at the front end and ground at the back end. As with the discrete geometry, an ion is accelerated into the front of the dynode by the high negative potential. The chief difference is that the continuous dynode geometry has one continuous electrode that has sufficient resistance to make the voltage gradually drop from front to back. As with the discrete geometry, electrons are made when the ion initially strikes the front of the dynode. The secondary electrons are accelerated toward the back of the detector by the potential drop, generating more electrons each time they strike the detector's walls. The increase in electron count is again exponential down the length of the detector. At the end/back of the detector, the electrons are passed into circuitry that further amplifies the response.

Video on YouTube: Electron Multiplier - Continuous Dynode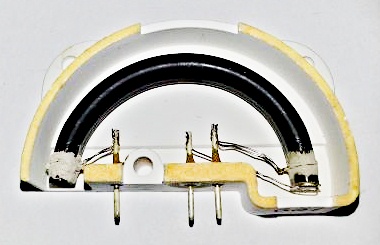 ---
Le contenu de ce site est sous copyleft

The content of this site is under copyleft

Der Inhalt dieser Website steht unter Copyleft